American Indian College Fund Challenges Stereotypes
SOURCE: The American Indian College Fund
Press Release
Friday March 2
Have You Ever Seen A Real Indian?
American Indian College Fund Advertising Campaign Challenges Stereotypes
PORTLAND, Ore., March 2 /PRNewswire/ -- The American Indian College Fund announced today the launch of a new advertising campaign that challenges ``Indian'' stereotypes by profiling strong, successful Native American people. Created by long-time College Fund advertising agency, Wieden + Kennedy/Portland, the print campaign is expected to appear in April publications.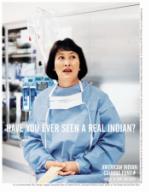 "With this campaign, it is our goal to challenge the American public's notions about who Indian people are and what they can become,'' said Richard Williams, Executive Director of the Denver-based nonprofit organization. "We are very proud of the achievements and contributions of the people featured in our ads and we want to illuminate those positive images.''
The campaign's goal, which features accomplished American Indian professionals and tribal college students, is to portray a contemporary and accurate image of Native American people. Photographed by Chris Buck, the ads feature Rick West, Founding Director, Smithsonian National Museum of the American Indian; Dr. Lori Arviso Alvord, Surgeon and Associate Dean, Dartmouth Medical School; Dean Bear Claw, Director/Screenwriter; Jarett Medicine Elk, Business Major; and Carly Kipp, Biology Major. Each full-page, color photograph carries the bold headline ``Have You Ever Seen A Real Indian?'' The copy will include a short version of each individual's resume as well as a fact about the benefits of Indian Colleges:
Rick West, Southern Cheyenne. Attorney, Founding Director, Smithsonian National Museum of the American Indian, traditional powwow dancer.
Reservations can have an 85% unemployment rate. But one year after graduating, 90% of tribal college students are working or pursuing higher degrees.
Carly Kipp, Blackfeet. Biology major, tutor, mom -- pursuing a doctorate in veterinary medicine, specializing in large animal surgery.
Many tribal college graduates stay on the reservation. Economists project that every dollar of their incomes will turn over two and one half times.
The new tagline, ``Invest in our Strength'' is a direct call to action to support the college fund and its mission. The line also connotes that contributions are not handouts, but investments that will derive positive economic and cultural dividends for American Indians.
To contribute, call 800.880.5887 or go to collegefund.org.
The American Indian College Fund and Wieden + Kennedy/Portland have been collaborating for eleven years. Passion and collaboration are crucial to the success of a pro bono advertising campaign. Once the ads are completed, the agency teams with print partners to secure placement of the advertisements in national media outlets. This emotion-driven process is facilitated by the media partners' desire to promote good will. Since the American Indian College Fund and Wieden + Kennedy relationship began in 1990, approximately $14 million has been donated in media to promote the college fund.
Founded in 1989, the American Indian College Fund serves approximately 26,000 Indian students across the United States. With its credo, ``Educating the Mind and Spirit,'' the Denver-based non-profit distributes scholarships and support to 31 tribal colleges that have received growing acclaim for successfully providing education that combines accredited academics with Native culture. The College Fund also supports endowments and public awareness, as well as college programs in Native cultural preservation and teacher training.
Wieden + Kennedy, founded in Portland, Oregon, is one of the largest independently owned advertising agencies with offices in New York, Amsterdam, London and Tokyo. A full-service creatively led communications company, Wieden + Kennedy has helped build some of the strongest global brands inc luding Nike, Miller, Coca-Cola and ESPN.
SOURCE: The American Indian College Fund
---

Please click on the Native American Holiday banner for late breaking news and updates on the Native American Holiday.