Flags International
National Native American Veterans Association
Native Women Veterans of our military armed services.
Department of Defense Almanac 1999 - Development Version
DefenseLINK - Official Web Site of the U.S. Department of Defense
Department of Veterans Affairs Home Page
Navajo Code Talkers: World War II Fact Sheet
Navajo Code Talkers' Dictionary
Geronimo Monument
Exterminate Them! an HDTV Feature Documentary
Index of Native American Resources on the Internet - WWWVL American Indians
Veterans on the Net
U.S. Armed Forces: Army
US Army Corps of Engineers Home Page
U.S. Navy's Official Web Site: Welcome Aboard
U.S. Navy History
Master Chief Petty Officer of the Coast Guard Home Page
United States Marine Corps
Marine Corps History
Air Force Link
American Forces Information Service
DefenseLINK: Defense Libraries
Gulf War Illness Awareness Ride 2000
International Brotherhood Days
Smithsonian Institution
DS VetCenter Lobby

We will never forget what you gave for all of us!
Web Sites Of Interest
www.stripes.com
New VA director prescribes health care accessibility for Veterans
TSP: Uniformed Services Questions & Answers
A Chain of Command: What Really Happened at My Lai 4
Firebase Network Home Page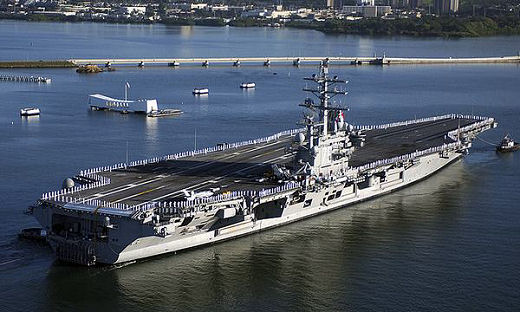 USS REAGAN PASSING THE ARIZONA MEMORIAL

A Tribute To Veterans Song

In Vietnam, Korea and World Wars Past
Our Men Fought Bravely so Freedom Would Last Conditions Were Not Always Best
They Could Be Fighting a Foe You Could Not Always See:

From Mountain Highs to Valley Lows
From Jungle Drops to Desert Patrols

Our Sinewy Sons Were Sent Over Seas
Far From Their Families And Far From Their Dreams They Never Wrote Letters
Of Hardships Despair Only Of Love, Yearning That One Day Soon:

They Would Come Home, They Would Resume
And Carry On With The Rest of Their Lives

The P.O.W.šS Stood Steadfast
Against the Indignities And Cruelties Of War They Could Not Have Lasted as
Long as They Did If They Had Relinquished Their Hope That Some Day:

They Would Come Home, They Would Resume
And Carry On the Rest Of Their Lives

Medics, Nurses, and Chaplains Alike
Did What They Needed To Bring Back Life
They Served Our Forces From Day Into Night Not Questioning If They Would Survive:

They Mended Bones And Bodies Too,
They Soothed the Spirits of Dying Souls

And for Those M.I.AšS, Who Were Left Behind We Echo This Message Across the
Seas We Will search For as Long As It Takes Youšre Not Forgotten And Will Always Be:

In Our Hearts, In Our Prayers,
In Our Minds For All Time

A Moment of Silence, a Moment of Summons Is Their Deliverance of Body And
Soul To a Sacred Place That We All Know Deep In the Shrines of Our Soul:

In Our Hearts, In Our Prayers
In Our Minds For All Time

INTERLUDE:
GOLD STAR MOTHERS GRIEVE: ENDLESSLY,
ENDLESSLY, ENDLESSLY.......

These Immortalized Soldiers Whose Bravery Abounds Theyšre Our Husbands,
Fathers, and Sons They Enlisted For the Duty at Hand To Serve the Cause of
Country and Land:

They Had Honor, They Had Valor,
They Found Glory That Change Them Forever

Men Standing Tall and Proud They be
A Country Behind Them in a Solemn Sea
So Let the Flags of Freedom Fly
Unfurled in Their Majesty High:

In the Sun, In the Rain
In the Winds Across This Land

Years of Tears Has Brought Us Here
Gathering Around to Hear This Sound
So Let the Flags of Freedom Fly
Unfurled in Their Majesty High:

In the Sun, In the Rain,
In the Winds Across This Land

REPEAT:
In the Sun, In the Rain,
In the Winds For All Time

Jerry Calow (copyright 2003)

Poetry

AMERICA'S HERO


This poem is in memory of
Pfc. Sheldon Hawk Eagle, a descendant of Lakota warrior Crazy Horse, who was among
17 soldiers killed when two Black Hawk helicopters crashed in the northern Iraqi City of Mosul

Crimson tears fall silently upon tattered lace,
Echoes of a Mother's heart alone in this place.

Walking the darkness late into the night,
Praying for the safety of a son who must fight.

Knowing with all that gives her life's breath,
Her son so far away has met his death.

Fighting for what he believed was good,
The threat of death always understood.

He will finally come home to be laid at rest,
An honored soldier, one of America's Best.

Donna Simms
Buffalo Woman

MEMORIAL DAY
Their silent voices are heard
Echoing throughout the lands.
The victories, the defeats.
The privates, and the generals.
The orders and commands dutifully
Carried out in unconditional obedience.
Some vices remembered, some forgotten.
Still others stand before engraved
Stone walls; by grave sites.
In cemeteries, the regimental protocol
Of white crosses, American flags,
Attest to their committed dedicated.
Resonating through still silence,
Voices of sons and daughters,
Turned into men and women who,
By reason of fate or free will,
Gave all that they had;
Gave the best they had.

Lingering, silent voices, carried by breezes
And winds, North to South, West to East.
Laying bodies, standing monuments.
Standing towers of bravery and courage.
Showing all the living human race
The emblem of commitment;
The metal of loyalty.
The true measure of their substance.
Their understanding of the price of freedom;
Their understanding of Life's reality.

Resting, living memorials. Memories to those
Who knew them; History makers to those
Who come after them. Those who someday will
Stand in the silence of the day.
Listening to the voices of those who left boot and
Helmet on the battlefields of
Misunderstanding, anger and aggression.

Sons and daughters, some with children
Who now listen, cry, still not sure why.
Some who never had the opportunity to
Bring a new creation into God's creation.
For these, others stand t mourn their
Absence from this . . . Another . . .
MEMORIAL DAY
(c) Copyright April 23, 2000

FREEDOM
As the Eagle soars high under the motionless clouds,
As she bathes in the rich warm sun,
Her wings spread across the horizon
Soaring, soaring ever closer to God.

I look at her with envy,
I look at her with desire.
My soul flutters.
My heart beats fast and wild,
Uncontrollably throbbing,

Beating against my chest
Harder and harder with
each flap of her majesty's
Graceful wings.

My mind floating as a spirit
Catching every move.
Examining her from every angle,
She moves . . .

She moves silently as a summer breeze
Across the expanse of space,
Free of time.

Her freedom liberates my soul.
She teaches me what it is to live.
To enjoy the vast beauties
Of a Great Creator.

To loose myself in
The infinitude of space;
To forget the boundaries of time.

She is suspended by the gentle
Winds that glide her form
Freely through space and time.

She flies so free.
She has learned well the lessons God has taught her.
She has taken freedom,
And has given it to me.

Original Copyright 1968 (c) COPYRIGHT April 24, 2001
Katalin Anna Zoe Nemeth